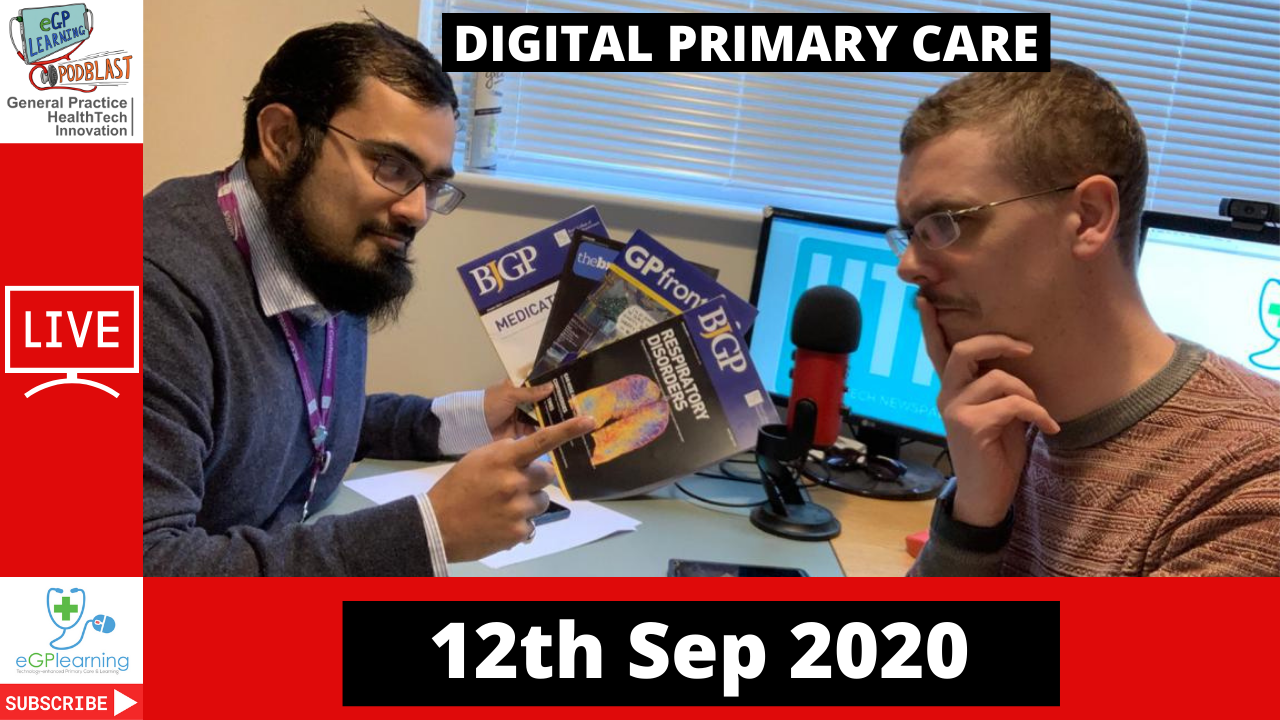 Join Andy and Gandhi for their latest Digital Primary Care update after a brief break. What is new in general practice and digital health, find out here.
Welcome eGPlearners
Back from our summer break.
Are you refreshed?
Working on DPC conferences - sign up!
Congratulations to fellow eGPlearner and long time Listener - Dr Sonali Kinra on her election to the National RCGP council. 
What are we talking about this morning?
A story about NHSD plans to count GP appointment data and the focus on appointment as the unit of work https://www.england.nhs.uk/wp-content...
A story about how a CCG is partnering with video consult provider LIVI to make video consultations available for all of there 220,000 patients.
Story and discussion about flu immunisation in practices and preparedness
Main discussion point this week.
Mapping time and appointments in GP has been a big issue on discussion forums this week.
New Guidance on accurate monitoring of GP Appointment Data from NHS-D : https://www.england.nhs.uk/gp/gpad/ 
Whats happening?
Data extraction from CRS to NHSD to monitor GP activity
Why causing a buzz?
Provided a definition of of what an appointment is? What will be counted… And what will not be counted as an appointment.
Go through on the PDF….
Talking points
If something isn't counted then is it not valued? 
Extracting the appointment ledger does not reflect the work taking place
Letters
Bloods
Tasks
Undocumented phone calls
Supervising colleagues
Concern that the real amount of work taking place will be underestimated
What decisions about funding and resource allocation will be base on this data?
Secondary care better at or longer history of strategic data collection - due to historic payment mechanisms?
Leading to a wider discussion in some places about GP workload and the consequences of this being poorly defined and understood. Generally - issues of burnout?
We delude ourselves that we do 9 - 3.5hr sessions - the profession tells itself this lie?
How do you count activity….
Multiple problems in one appointment?
The number doesn't equate to work and quality?
Everything on the ledger - make everything that can be ana appointment, an appointment
Should we instead focus on truly counting workload/activity?
Should we focus more on outcomes in this population health-driven world?
Why is this happening?
So Governement can say that there are X million more appointments after an initial count and then 
http://www.pulsetoday.co.uk/news/ccg-...
NHS North Tyneside CCG said the 12-month pilot would give free online GP services to 222,000 patients without them having to deregister from the area's 25 GP practices
?extended access funding
Some concerns from local GPS about the limitation of online appointments and whether funding could have been better spent with local practices.
https://www.digitalhealth.net/2019/09... 
Boots/Livi - £25 per appointment
Good for access
But erode / damage relationship and continuity with practices.
http://www.pulsetoday.co.uk/views/how...
More people - shielded, over 50s and existing groups
COVID infection control, social distancing and PPE requirements
The COVID vaccine plans and difference?
Some additional help...
City Care Staff locally able to do flu jabs
Delay 50-65s until November
What are you doing?