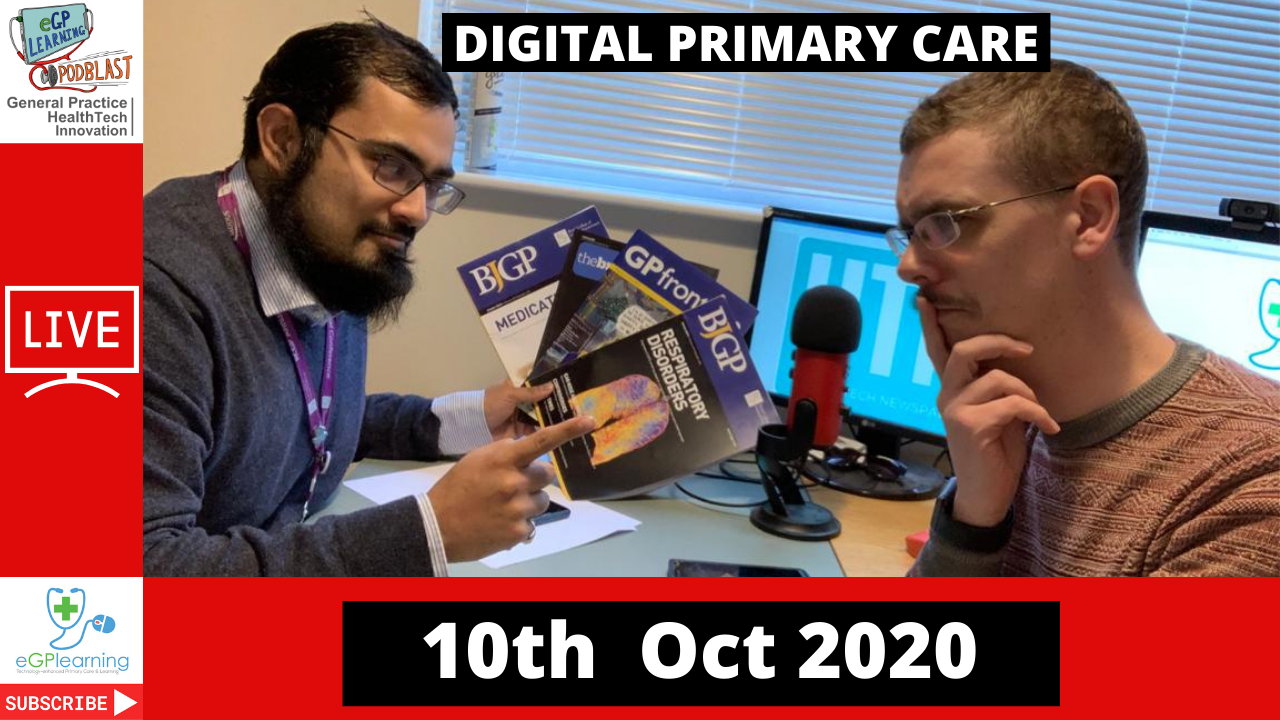 Join Andy and Gandhi for their regular update on Digital Primary Care on flu, CQC regulation of digital health and more.... see below for links
10 Oct Update Episode
Welcome
Introductions
How we doing
Digital PC round up
Today looking at
A new document from CQC - Draft strategy for discussion
Announcement about flu delivery
Redmoor digital journey planner
Anticipated information from NHSe
Andy - So Gandhi - new flu announcement, I haven't read - what is it about?
New Dept of health supply of flu vaccines for practices
HTN article about Draft CQC strategy document
https://www.thehtn.co.uk/2020/10/06/c...
CQC Published New Development strategy including digital health
https://cqc.citizenlab.co/uploads/f81... 
Describes
Changes accelerated by COVID19
Recognises regulator must transform
Themes
People 
Smart
Safe
Improve
References
New restrictions in providing care
New digital channels
New ways of working
New services
Offer regulation that is more relevant
Managing risks and uncertainty
"As the regulator of health and social care, we need to cement our place in that new world. As I've said previously, we're not going to return to the way we worked previously — this will mean some big changes."
Use of data and analytics and "AI" to support intelligence-based activity - to assist regulation and target inspections?
The greater importance of dashboards
Themes
People
Look at touch points on a patient journey - patient-centered shift?
We want our information to help people make decisions about care and to enable and empower them to drive change. 
Look at effectiveness systems of not just organisations but systems - PCNs, ICS, CCG?
Renewed focus on inequalities? Champion in everything we do… More pressure on systems to address these?
Smart
This means a more dynamic approach to regulating: moving away from relying on periodic inspections of services
and harnessing information from all sources to continually assess the quality and update ratings. Data will underpin all our activity, allowing us to understand risk and how people are experiencing care, 
target our resources for the greatest impact, and be more proactive than reactive.
Greater use of data and dashboards to target activity
Responsive rather than cyclical and planned
Looking at the value of services to the community and effect on the overall system? - Implications for services like GP at hand?
"Where services are innovative, we'll look at how they benefit people as well as how they support the sustainability of the local community and how they meet their social and ethical responsibilities. We'll recognise and capture where quality has improved and will share this learning"
Safe
we'll commit to enforcing standards of safety much more proactively so that services focus on protecting people, including their human rights. 
Where quality and safety are compromised, we'll be quicker to intervene to prevent unnecessary harm to people caused by unsafe and toxic cultures. 
Improve
We want to provide benchmarking information so they can measure their performance against similar services, and then make sure they have access to the support they need to make the changes real.
Improvement partnerships? CCGs, NHSE & Area teams, LMCs?
Similar work:
NHSD survey work on online consultations
Redmoor Health Digital Journey Planner: https://vimeo.com/463449581
Free Remote Consulting 5-day challenge: https://bit.ly/RC5dayC
Remote consulting webinar: https://egplearning.podia.com/remote-...