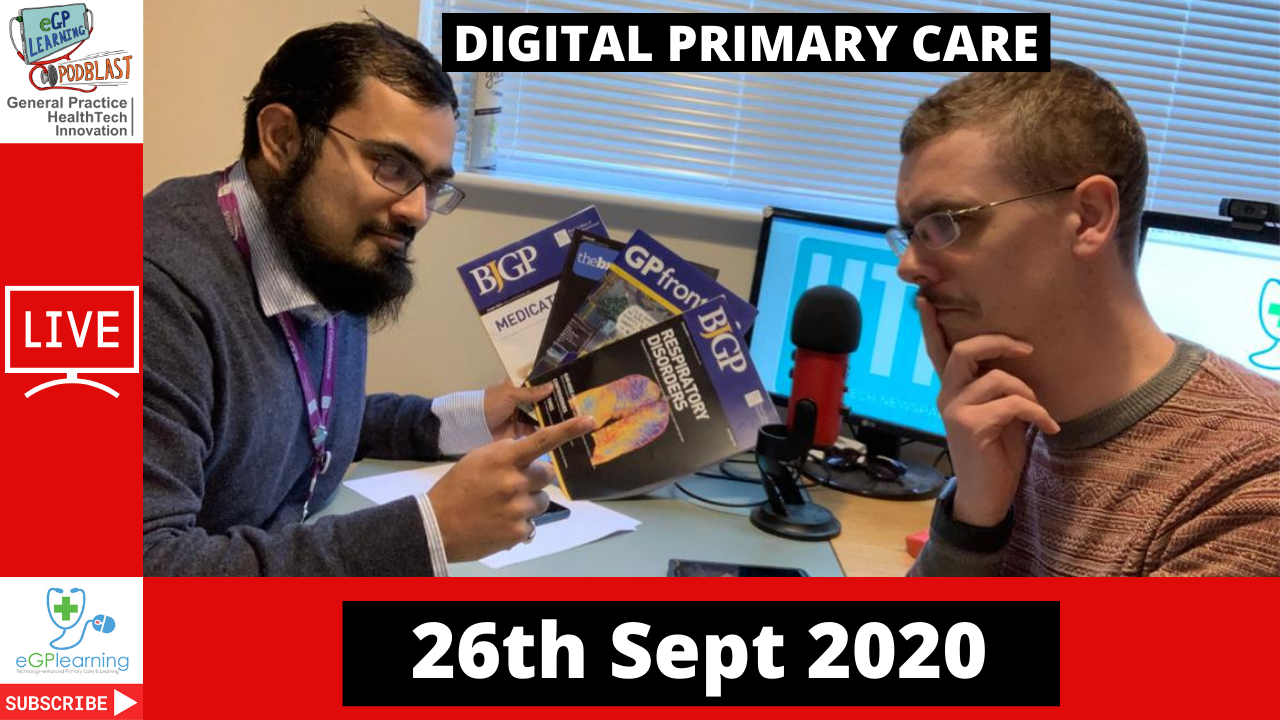 Join Andy and Gandhi for their latest Digital Primary Care update on the new COVID app, DigitalPC20 prep, and more...
NHSCovidApp: https://www.nhs.uk/apps-library/nhs-c...
#nhscovidapp #covidapp digitalprimarycare
Twitter response: https://twitter.com/NHSCOVID19app/sta...
Join DigitalPC20: https://bit.ly/DigitalPC20
26 Sept Episode - NHS COVID-19
Welcome
Introductions
Live Saturday Episode
DFPC Conference
Demo…
Video on screen
Postcode - lets you know if area is high risk
Cant change
Info on localised measures and restrictions
Data stays on the app and doesn't need to go anywhere else
Venue check in - QR code
Check symptoms
Read latest advice
About the app
Enter test result
Switch off contact tracing
How it works diagram and privacy - use FT diagram
https://www.ft.com/content/d2609e26-8... 
No centrally stored data - everything is dispersed across everyone's phones…
Supposed to address privacy concerns 
No GPS or location data…
All data on phone...
Will people download it?
Use not compulsory
£1-10k fine if you refuse to self isolate… but the government won't know
Matt Hancock stated was optional….
Will you use it?
Coverage needed?
50% based on comments about German App
In May Iceland had highest uptake with 38% of its 364k population
Singapore has 37% - early leader, bit more authoritarian
Should GPs use the app in surgery?
Can pause contact tracing for periods of time
Not use if wearing PPE??????
Flu clinics?
Should we display a code at the surgery - like bars, hair salons and other venues?
Bars etc. required to display under regulations
No contractual obligation - voluntary
Here is the link to create a code
https://www.gov.uk/create-coronavirus... 
Will your surgery promote it?
Problems!!!
NHS tests do not link to the app - relevant code currently not provided
https://twitter.com/NHSCOVID19app/sta... 
Will it overwhelm testing centres?
Why the delay?
"World beating app" supposed to be released 4 months ago?
UK rejects apple/google solution
https://www.bbc.co.uk/news/technology...
UK Abandons own app
https://healthcareleadernews.com/covi... 
Battery and privacy and technical concerns...
Thoughts?
Missed opportunity?...
Window of opportunity still open?
Work as part of a whole range of measures
But will be so much more ready for the next pandemic?
Opens lots of future possibilities…
New model for handling health data and sharing health data
Gets people used to some health data
Google and Apple as health data partners - kudos and entrance for them to the area
Gets people used to using a smart app to guide health behaviours
Open doors for health apps in the future
So after all that - will you use it? Will you recommend it?
Digital Primary Care Conference: https://bit.ly/DigitalPC20