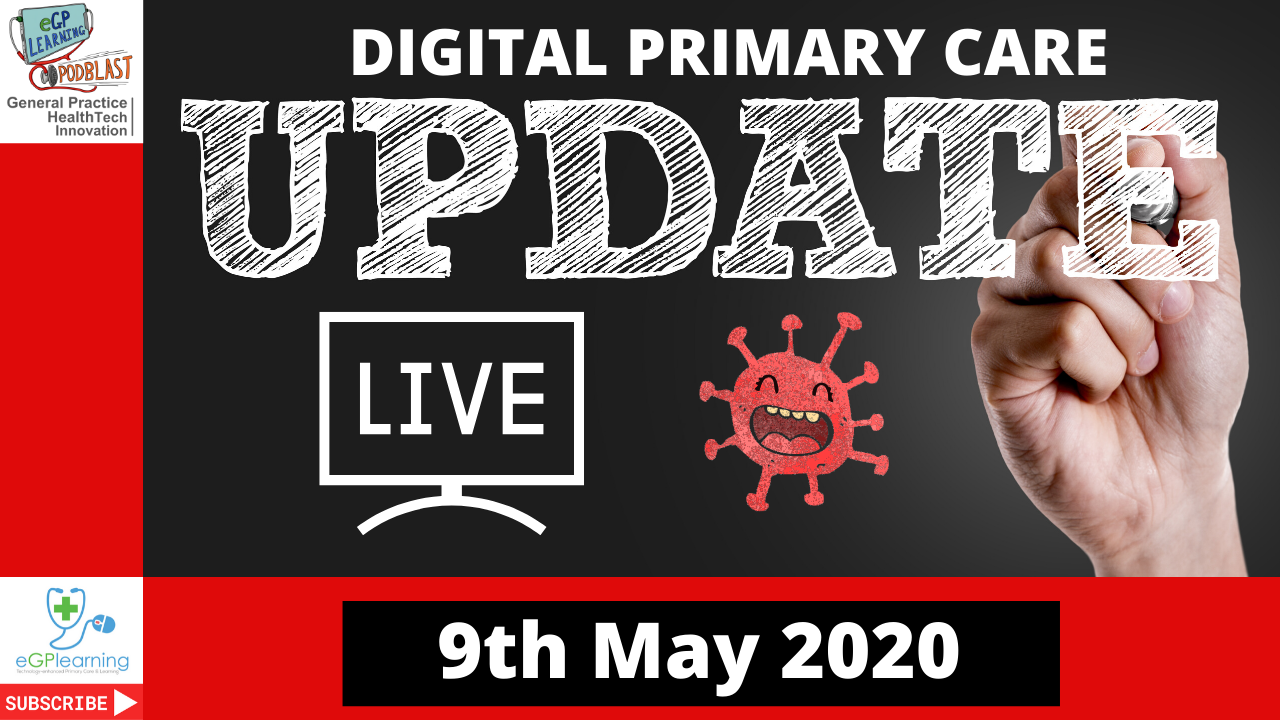 Post lockdown eGPlearning Podblast update part 2
Join Andy and Gandhi as they explore what primary care might look like after the coronavirus lockdown comes to an end in the UK. 
🔴 Subscribe: https://bit.ly/eGPlearningYTsubscribe 🔴 
Life after Covid Part 2
Welcome
Continuing our conversation about how  COVID has brought a lot of changes and innovations in a short period of time
Check out part 1 where we talked about demand management and total triage, patient behaviour and resilience and video consultations:
Today we are going to talk about how more things might be changed by COVID...
+ Management of long term conditions
+ Working with colleagues in practice
+ Working with the wider MDT
+ And… how can we make changes stick
Live so - Engagement and Chat
+ Managing long term conditions
- 4 waves
- Online management… option
- Suppliers
- Apps from ORCHA etc: https://appfinder.orcha.co.uk/
- Issue of using multiple apps and channels in addition to NHS app?
- Not such an issue if interaction initiated by the practice?
- Single front door
+ Working with Colleagues
- Practice & PCN communications
- Loads of options… WhatsApp, Teams, Zoom
- Apps yes, but also the frequency of meetings - weekly pandemic PCN meetings, cell meetings...
- So many options and some improvisation in crisis - bit fragmented landscape
- What are you planning for practice and PCN for comms?
+ Wider MDT Comms and working
- Remote MDTs in care homes
- Community
- Increasing engage and reducing barriers
- Conversations around care home DES service
+ But will things really sticky
- What will go back to how it was before?
- Patient behavior?
- Inertia to change within NHS return?
- Deliberately and formally taking stock and planning path forward in your practices will help
How Facebook Live can help your medical practice: https://www.youtube.com/watch?v=O43MZZuOlH0
News Article
UKs COVID contact tracing app: 
https://www.ft.com/content/70b86cde-177b-4269-9657-daab6a60a9a5
Pomodoro Technique for Primary Care: https://www.youtube.com/watch?v=qv98Si9I4ZU
Pomodoro Timer for Primary Care: https://www.youtube.com/watch?v=yTDsN_djoQQ
⭐Star posts⭐:
Quick video consultation skills for doctors: https://www.youtube.com/watch?v=1UivLSPDeZo
How to register with the NHS app: https://youtu.be/4nRhmJ_tlI4?t=65
👨🏾‍⚕️Dr Gandalf's Top medical equipment for General practice 👨🏾‍⚕️ see here: 
YouTube: https://youtu.be/JddoeK5JcRw
Website: https://egplearning.co.uk/ramblings/dr-gandalfs-essential-gp-equipment-list/
Subscribe to or follow the eGPlearning platform for more videos, app reviews and content to support technology-enhanced primary care and learning. 
🔴 Subscribe: https://egplearning.co.uk/subscribe/ 🔴 
Other networks:
👍 Facebook - https://www.facebook.com/Egplearning/ 👍🏼
🐦 Twitter - https://twitter.com/egplearning 🐦
🐦 Twitter - https://twitter.com/drgandalf52 🐦
🖥 Website - https://egplearning.co.uk/ 🖥️
💷 Support: https://patreon.com/egplearning 💷
Some links may contain affiliate links to help support eGPlearning see our disclaimer at https://egplearning.co.uk/contact/disclaimer/