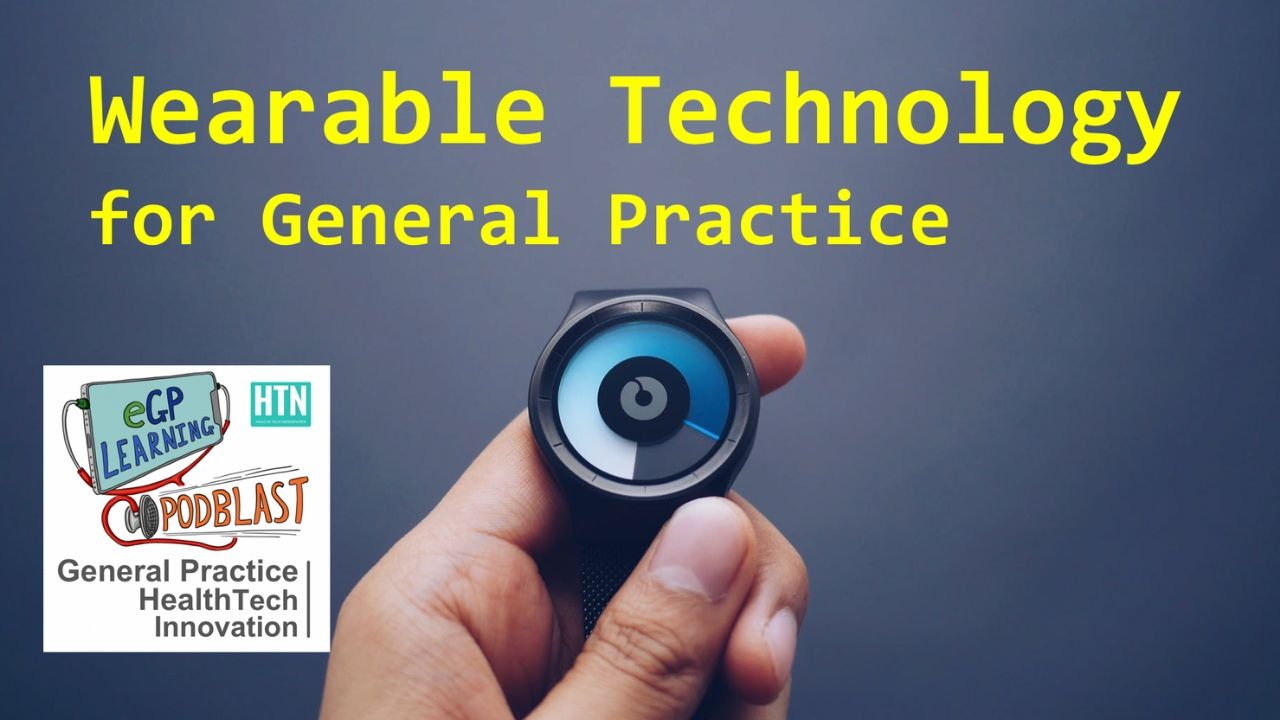 How will wearables change General Practice? Watch as Andy and Gandhi of the eGPlearning Podblast explore the world of wearable technology for general practice
🔴 Subscribe: https://bit.ly/eGPlearningYTsubscribe 🔴
Wearable Technology for General Practice - eGPlearning PodBlast Show Notes
Wearable health technology, is it all hype?
We discuss our experience with wearable technology in our day to lives as GPs. How patients and health professionals are beginning to use devices such as smart-watches and fitness trackers, the impact on Primary Care and how this class of device might develop in the future.
What have we been up to?
Andy - Beginning to work as a Primary Care Network Clinical Director and promoting the Nottingham Based Digital GP Fellowship
Gandhi - Attending a number of conferences, working on the eGPlearning platform
Gandhi has featured in an episode of AskPat, the hugely popular Podcast from @PatFlyn. Listen here 
A word from our partners - HTN
HTN The health tech news paper - an innovative daily news and opinion website for the health tech network
HTN Health Tech award winner revealed - go have a look!
https://www.thehtn.co.uk/2019/10/04/htn-awards-2019-winners-revealed/
What is wearable health tech?
What is wearable health technology
No real definition...
We have always had wearable health tech - hearing aids, early insulin pumps, overnight pulse oximetry...
Previously been expensive, but now rapidly developing areas as smartphones, and later health tracking industries have created a volume market for sensors, processors, wireless communication chips/tech. Meaningful wearable health technology is now cheaper to produce and develop.
What does wearable tech do?
Capture information
Tracking vital signs and observations
Monitoring for events such as falls & fits
Movement and activity
Treatment compliance - activity, physio, medication adherence
Body-worn biochemical sensors - e.g. glucose, ECG
Use the data
Identify unrecognised events or track vitals during an event - eg. palpitations - For a good example see Kardia:
Monitor disease activity - eg. diabetes
Make sense of larger data sets for meaningful health insights
Intervene
Suggest and administer medication such as insulin
Alert family or paramedics to intervene - e.g. fall
What do we think about Wearable Health Technology?
Andy discusses his experiences with the AppleWatch platform.
AppleWatch on Amazon - 
Gandhi discusses experiences with:
Fitbit - Good brand, reliable, fits well, great metrics, less smartwatch that tracker - universal platforms
LetsCom  fitness trackers - Pros- cost, battery life, simplicity, rugged. Cons- function, basic
Gandhi is also a fan of those devices with the tracking capabilities of fitness trackers but the appearance of a normal watch such as the Muse and Withings ranges.
https://www.musewearables.com/
https://www.withings.com/uk/
We discuss our thoughts on the current situation with wearables and the future… Including...
It would be great if/when apps available to make sense of the data - perhaps integrating with my health record…
But, sometimes I want to wear a different watch… Perhaps seen only as a health/comms device...
Will those who need it want to use it - Grandads and hearing aides…
Are they just for exercise and fitness?
Security & privacy concerns?
Apple vs Google - will there be a small number of dominant players due to platform effects?
Ultimately we believe there is lots of health potential in the future...
Huge potential…
Because getting cheap...
Platforms for sharing data are maturing - Apple Health, Google Health, NHS App
Perhaps we will reach a critical mass in the near future and use will explode.
Thanks for listening
What do you think? Will wearables be a help or hindrance to Primary Care?
⭐Top posts⭐:
👨🏾‍⚕️Dr Gandalf's essential GP equipment list 👨🏾‍⚕️ see here: https://egplearning.co.uk/ramblings/dr-gandalfs-essential-gp-equipment-list/
📸Equipment to record patient consultations for teaching – a guide📸:
https://egplearning.co.uk/technology/equipment-to-record-patient-consultations-for-teaching-a-guide/
Subscribe to or follow the eGPlearning platform for more videos, app reviews and content to support technology-enhanced primary care and learning.
🔴 Subscribe: https://egplearning.co.uk/subscribehttps://egplearning.co.uk/subscribe/ 🔴
Other networks:
👍 Facebook - https://www.facebook.com/Egplearning/ 👍🏼
🐦 Twitter - https://twitter.com/egplearning 🐦
🐦 Twitter - https://twitter.com/drgandalf52 🐦
🖥 Website - https://egplearning.co.uk/ 🖥️
💷 Support: https://patreon.com/egplearning 💷
Some links may contain affiliate links to help support eGPlearning see our disclaimer at https://egplearning.co.uk/contact/disclaimer/